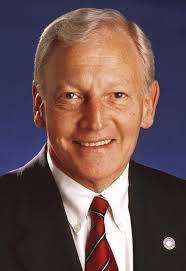 The 2017 Wright Memorial Dinner will honor Gen. J.R. "Jack" Dailey, USMC (Ret.), Director of the Smithsonian's National Air and Space Museum and recipient of this year's NAA Wright Brothers Memorial Trophy.  He is being recognized for "his courageous and dedicated service to the country and his commitment to sharing the history and technology of aviation and space flight with present and future generations."
The Aero Club's Wright Memorial Dinner will be held on Friday, December 15, at the Marriott Wardman Park Hotel.  The gala reception will begin at 6:30 p.m. followed by dinner and presentation of the Trophy.  This is one of the Washington's most anticipated events, with a hosted reception, fabulous food and wine, and the aviation community in all of its black-tie splendor!
Individual seats and tables are available and we've kept the same prices as last year!  Additionally, there are many sponsorship opportunities available, which provide premium placement, visibility and recognition.
We hope you will join us this year to celebrate Gen. Dailey and his longtime public service and his stewardship of the National Air and Space Museum!
---